Santander Work Café Isle of Man to open in Douglas this May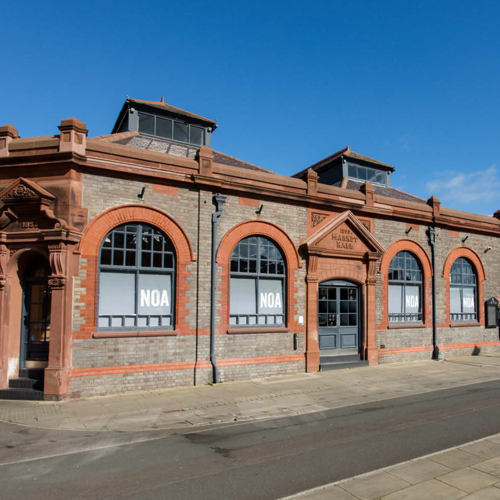 The Santander Work Café will open in Douglas this May transforming Market Hall into a vibrant new hub for co-working, meeting, banking, and socialising for all the community.
In partnership with Noa, Santander International has developed the site to expand Noa's popular café and bring new lease of life to the iconic Victorian building.
The Work Café will offer five free bookable meeting rooms, and accessible co-working spaces with free Wi-Fi, open to everyone, alongside new banking facilities. Santander International customers will also be able to meet banking staff in the building, open and manage accounts and mortgages, and withdraw money using ATMs.
James Geldart, Managing Director, Santander International Isle of Man, said: "After months of restoration, we are preparing to open the Work Café in May. It has been an exciting project working alongside Noa and we are all looking forward to welcoming the community to this wonderful new space."
Noa, which means 'fresh' in Manx, was set up as a sourdough bakery by Pippa and Miles Pettit nearly 10 years ago.  It has expanded into patisserie, coffee roasting, brewing, and hospitality while maintaining its focus on sustainable produce, procured through Direct Trade, or made in the Isle of Man.
Pippa Pettit, Co-owner, Noa, said: "The partnership is transformative both for the area and our business. The Work Café will allow us to go beyond brunch and scale up our café to bring islanders a wider range of locally produced artisanal food and drinks."
The Santander Work Café Isle of Man will be the bank's third Work Café in the British Isles. Since the launch of the first Santander Work Café in Chile in 2016, the bank has opened more than 100 Work Cafes around the world, including branches in Leeds and Jersey.
James Pountney, Chief Executive, Santander International, said: "The Work Cafe reflects our commitment to investment and innovation in the Isle of Man, creating new opportunities for entrepreneurs, groups, and individuals."
To find out more please see workcafe.im